Redefining Care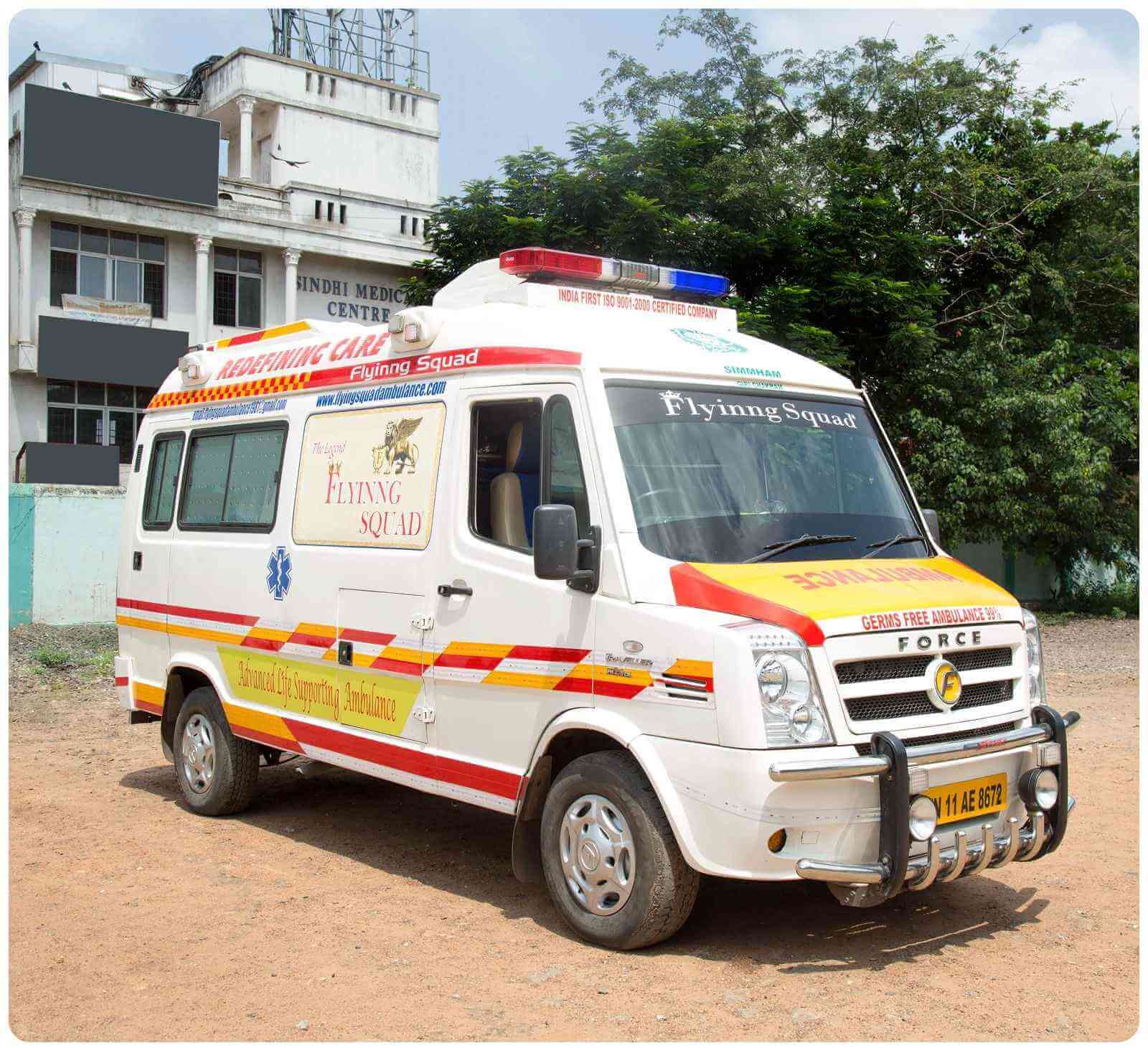 Flyinng Squad Ambulance service began operations in Tamil Nadu over three decades ago in 1981 in Chennai and Ambulance Service and ambulance service in chennai and Ambulance in chennai today is a significant Ambulance Service and ambulance service in chennai and Ambulance in chennai. Flyinng Squad has played a leading role in improving the Ambulance standards by implementing lot of innovativeideas such as Movable Stretcher, Provision for Bulk Oxygen Cylinders, Mobile ICU setup, etc in the year 2000 itself to enable a 100% safe patient transfer even for highly critical patients for any desired distance with ease.

Flyinng Squad has gained a most trusted name for Ambulance Service and ambulance service in chennai and Ambulance in chennai for being most consistent, prompt to attend the Emergency Calls and general patient transfers. Flyinng Squad Ambulance service,Ambulance service,Ambulance service chennai,Ambulance chennai,Ambulance chennaihas a team of 52 members designated to operate 34 Ambulances across Chennai.

Apart from providing Emergency Ambulance, Flyinng Squad Ambulance Service is highly reputed for its Homage Services provided in case of a Death in a very well organized manner. Flyinng Squad has introduced the Mobile Dead Body Freezer Box in the year 1993 which was a revolutionary idea and the concept is widespread internationally and The Chairman PRMM Shantha Kumar is honored Doctorate for Social Service in 2003 for the same.

Flyinng Squad team is very privileged to be a part in the execution of the Final Rites of the Two Legendary Leaders and Former Chief Ministers of Tamil Nadu, Kalaignar Ayya Dr. M. Karunanidhi and Puratchi Thalaivi Amma Dr. J. Jayalalithaa.
30
Happy Clients Hospitals like Apollo, MIOT, ICF Hospital, etc.
1000
Patients Transfered We are 1st ISO certified Ambulance Company in Chennai.
43
Years of experience We have 42 year of experience in the field of Ambulance Service.
35
Awards National Integration Award, Jambavan Award, besides certificates from various academy.
Since 1981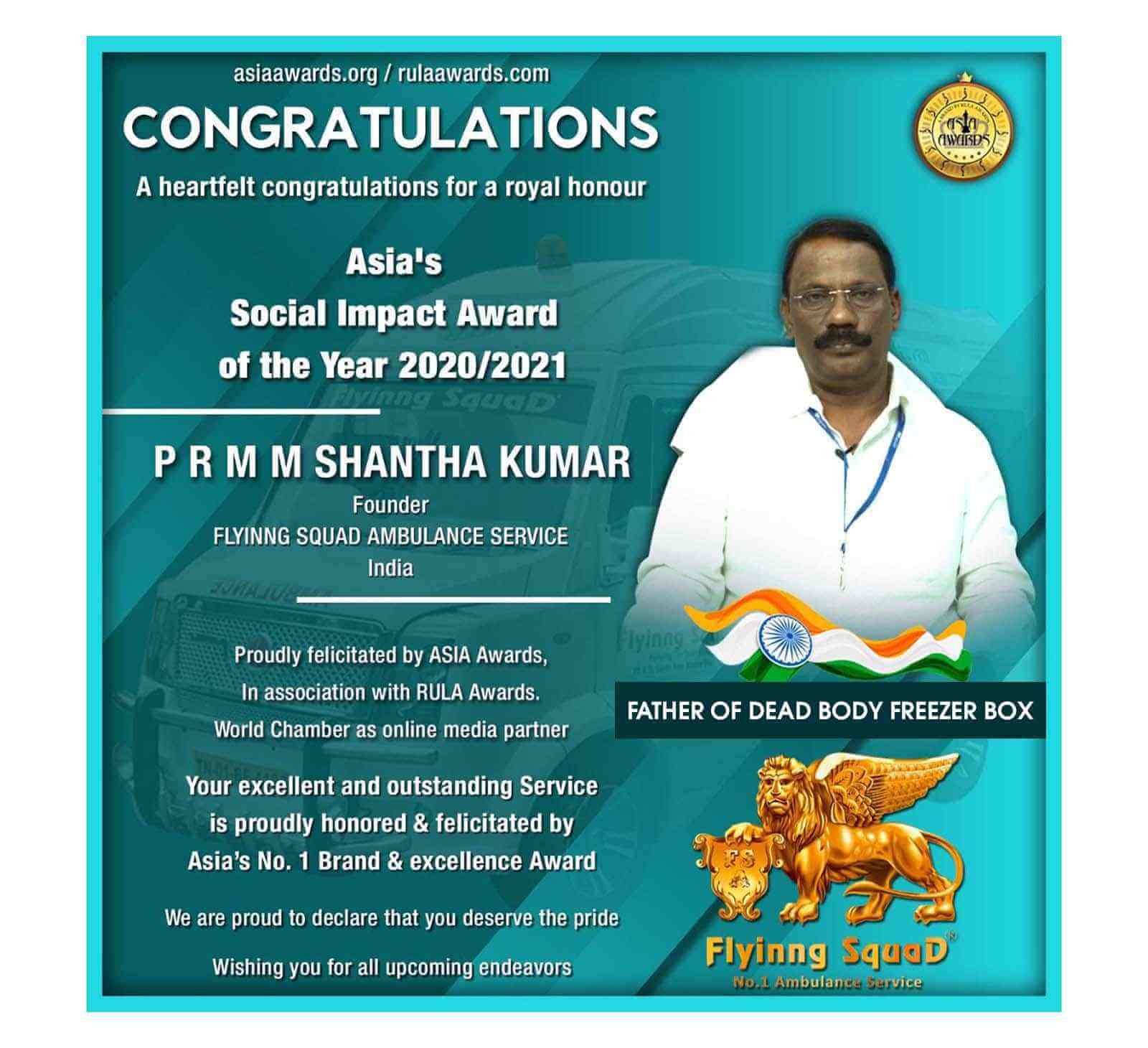 More About Flyinng SquaD Ambulance Service
Flyinng Squad always strives best to provide exceptional care and comfort to the Patient and Caregiver with best of the facilities on hiring an Ambulance. Nowadays, most of the Ambulances in the City providing basic and decent features to facilitate the Patient transfer but still there are limitations and scope for improvement.

We at Flyinng Squad are on constant attempt, commitment to improve the Ambulance Standards and have implemented many innovative features to experience betterment and advantage within the Ambulance, and many of our Custom made features now became common in all the Ambulances due to its success.

Our latest Custom Designed Ambulance "The ICU Plus", is a Sturdy & Steady Ambulance which is first of its kind in India. ICU Plus designed after a lot of research to overcome the present limitations in the Ambulances in India also this design is an inspiration from an American Ambulance manufacturer. The Name itself signifies its advantage i.e., PLUS. We wish and hope this design will set a Benchmark in setting standards for Ambulance in City.
Get in Touch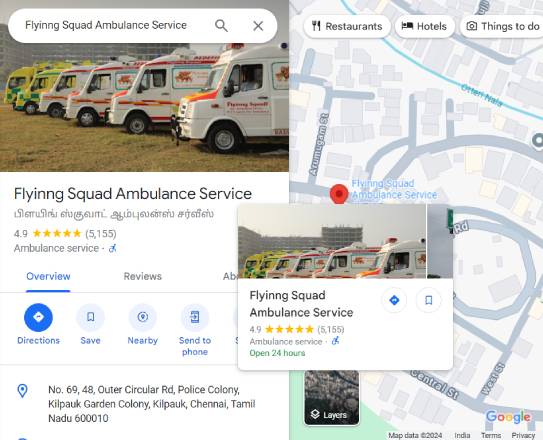 Contact Us
Flyinng SquaD Ambulance Service & Funeral Care
Understanding the Patient Specific Needs
No. 69/48, Outer Circular Road, Kilpauk Garden Colony, Kilpauk, Chennai, Tamil Nadu 600010